With an array of fresh, all-day resort dining options, WaterColor Inn has all of your cravings covered. With six restaurants conveniently located on-site, guests can take a bite off a menu of diverse culinary delights, from fresh seafood and Southern favorites to decadent breakfast items and light, coastal fare, that are sure to please every palate.
But we know that with so many delicious options, making a decision can be tough, which is why our own Chef Blaine Wilkinson, WaterColor Inn's Director of Culinary, has rounded up the five dishes that can't be missed during your WaterColor Inn visit – and let us tell you, narrowing these down was tough!
So, foodies, take note and plan accordingly! Have another standout WaterColor Inn dish to add to the must-try list? Let us know on Instagram by tagging #watercolorinn on your favorite bites. Bon appetit!
Fried Chicken Biscuit at Scratch Biscuit Kitchen
Fried chicken, honey butter, pickles, Thomasville Tomme cheese
Available for breakfast or lunch, Scratch's buttery homestyle biscuit sandwich is made with golden fried herb- and buttermilk-marinated chicken breast (okay, you have our attention) and topped with melted Thomasville Tomme semisoft cheese from Sweet Grass Dairy, house-made pickles and honey butter. A Southern staple and a Scratch must-have, this sandwich is bound to get your day started right! scratchbk.com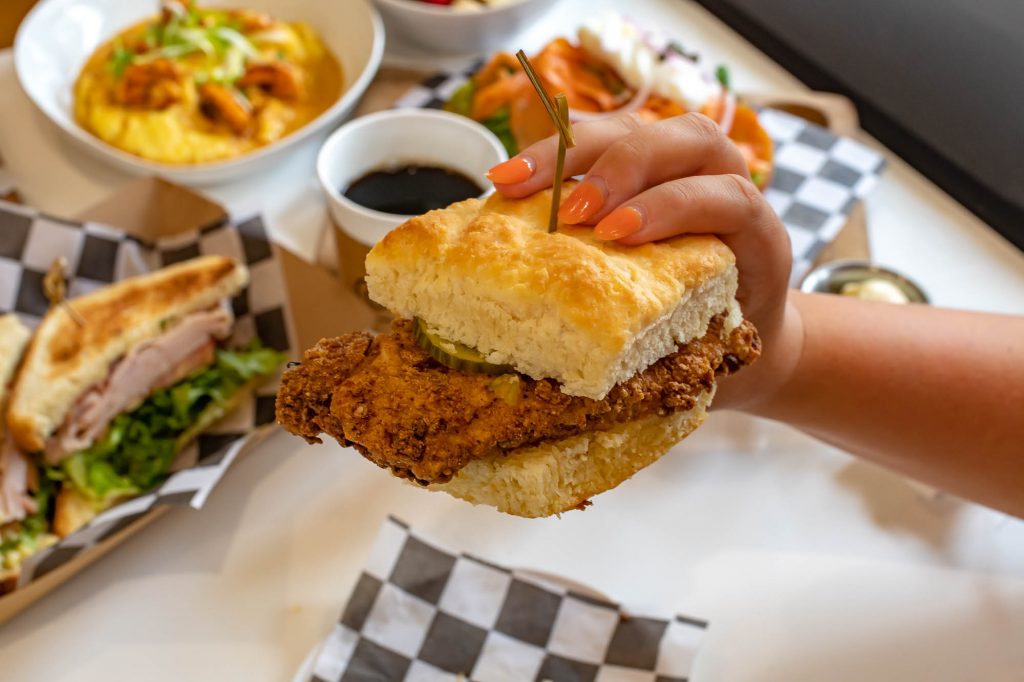 WaterColor French Toast at Fish Out of Water
Mixed berries, bananas, warm maple syrup
Whether you opt for an early breakfast or for an indulgent brunch, Fish Out of Water's thick-cut soft brioche French Toast is coated with Rice Crispy crumbs for a delightful crunch, then pan-fried and topped with a heaping blend of fresh berries, bananas, hot maple syrup and icing sugar. After all, you're on vacation, right? Enjoy this quintessential breakfast item against the restaurant's Gulf views and you've got yourself the best start to your morning on 30A. foow30a.com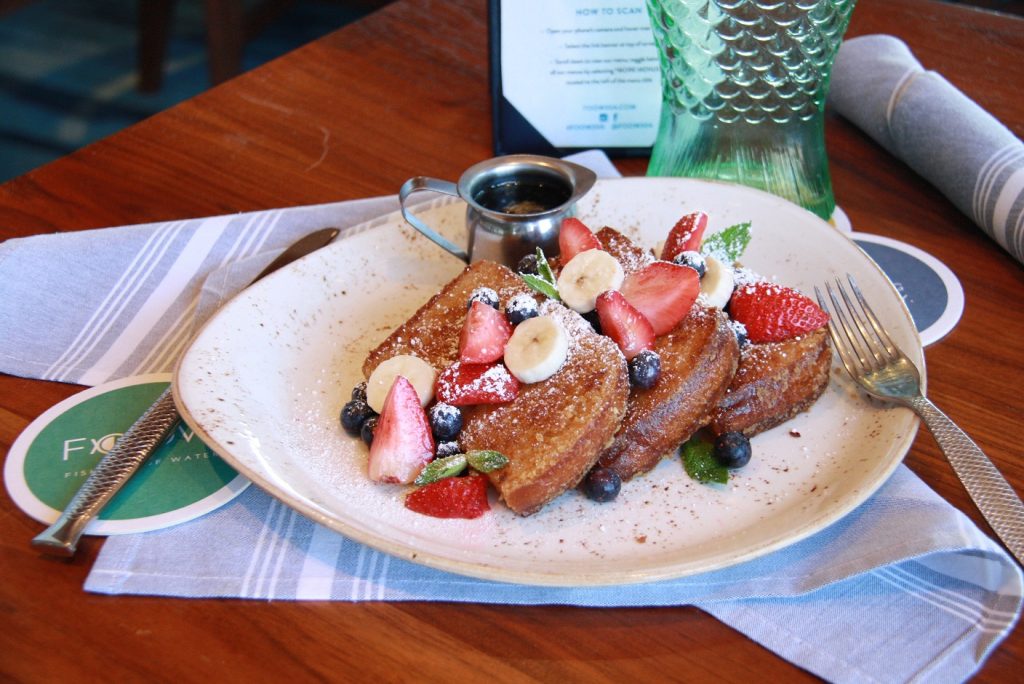 Fried Banger Shrimp at Fish Out of Water
Sriracha Comeback Sauce, Grilled Lemon
A taste of the Gulf and freshly made for your enjoyment as lunch or dinner, Fish Out of Water's playful spin on the area's classic fried shrimp offering incorporates Cajun and Asian seasonings for added zest. Marinated in a Cajun buttermilk blend, house-breaded and crisply fried, then topped with tangy sriracha sauce and served with grilled lemon, this is shrimp with a bang and perfectly suitable for sharing (though you probably won't want to). foow30a.com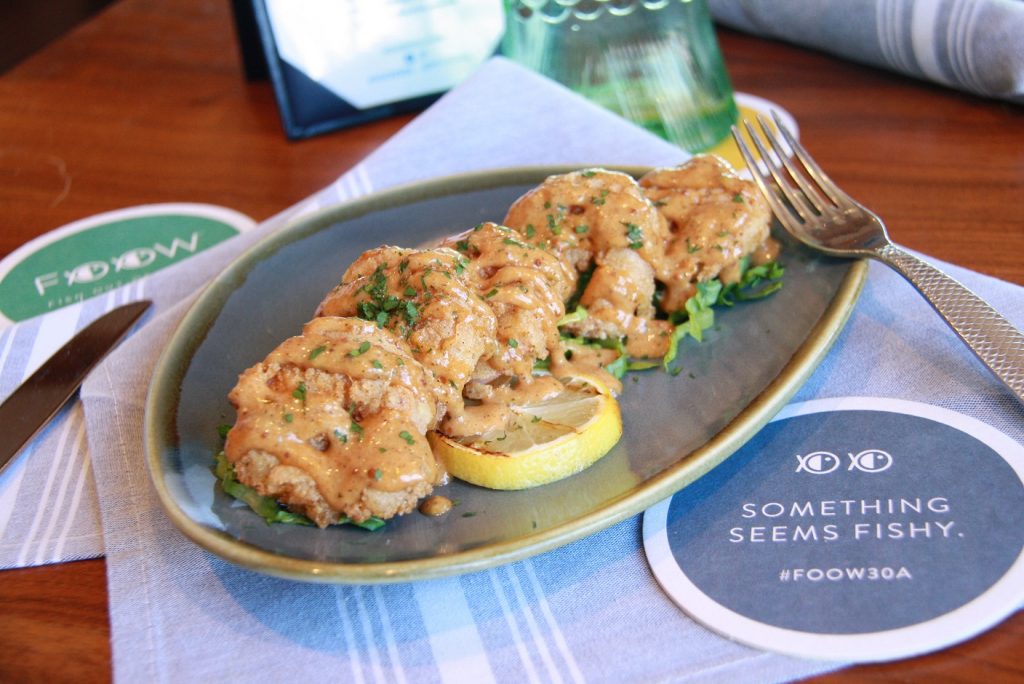 Gulf Fish Sandwich at Fish Out of Water
Brioche bun, lemon herb aioli, lettuce, tomato, red onion, pickles
Another delicious classic sourced from the Gulf of Mexico's bounty, this lunch or dinner option is made-to-order. Choose from grilled, fried or blackened locally caught fish, accompanied with house-made pickles, lemon aioli and fresh, locally sourced vegetables. Simple, fresh, tasty and ideal to enjoy with a view of the coast, you just can't go wrong with this one! foow30a.com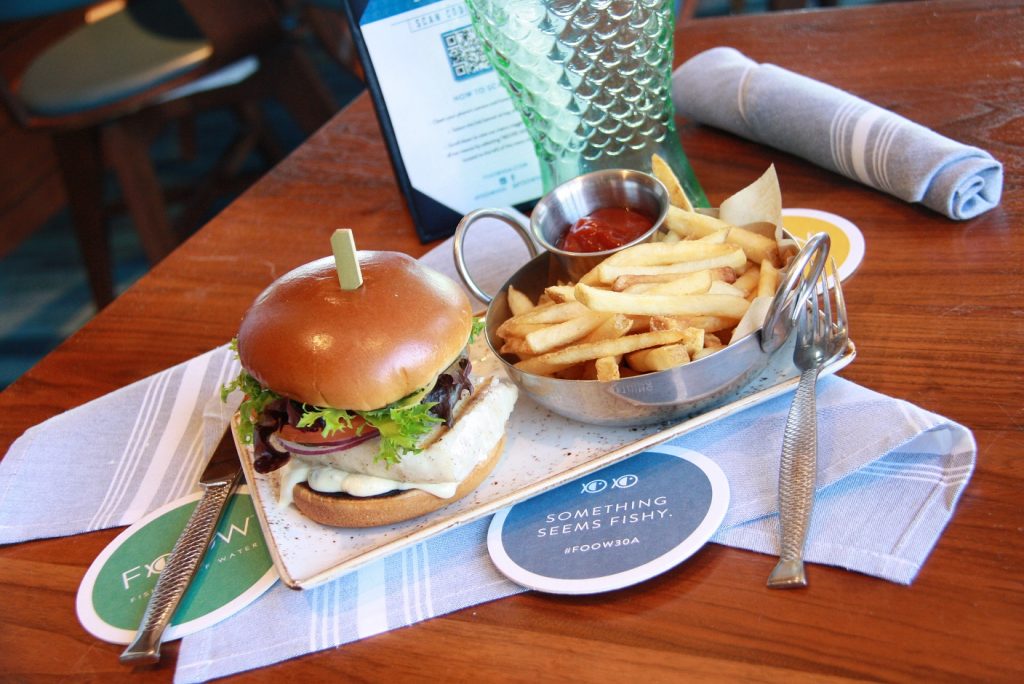 Gather Bowl at Gather Kitchen + Bar
Steamed rice, Asian coleslaw, ginger soya broth, edamame and sriracha mayo
Delicious yet versatile, this hearty bowl has become a go-to staple at Gather Kitchen + Bar, located within WaterColor Inn. Served with your choice of Gulf shrimp, fish, chicken or veggies atop fragrant steamed Jasmine rice, this dish delivers on firecrackin' yet refreshing flavors. *Gather Kitchen + Bar is a private amenity available only to WaterColor Inn hotel guests and Watersound Club Lifestyle members.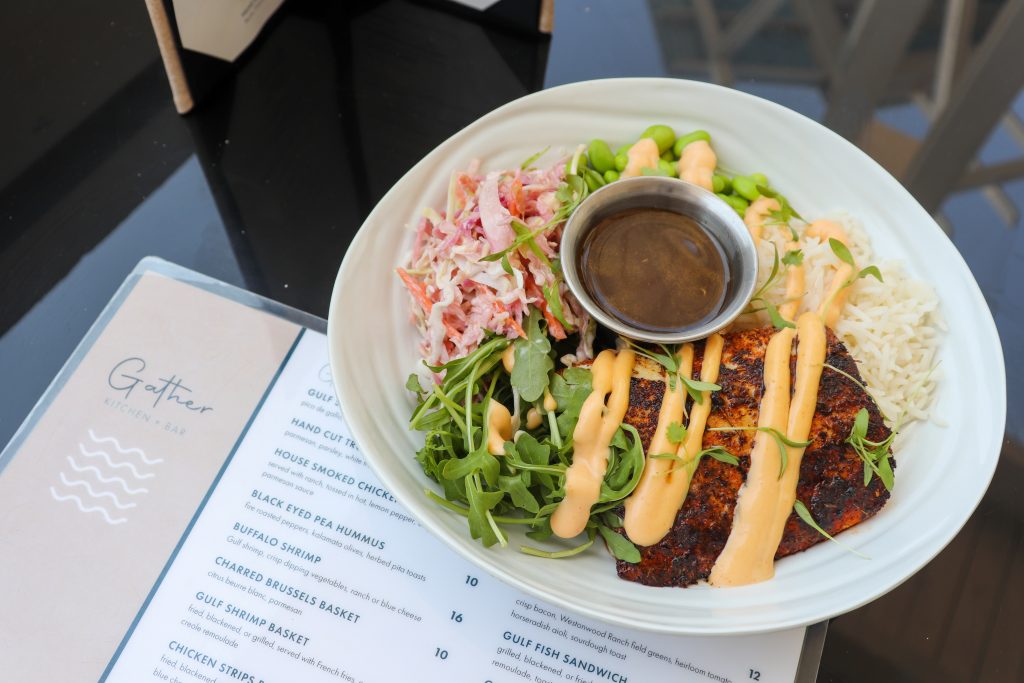 Details included in this story were accurate at time of publication but are subject to change based on seasonal schedules, amenity and/or operational updates. For the most current information, please visit the respective property's website.