FOOW has long been synonymous with fresh, locally inspired cuisine that celebrates Florida's best, serving an authentic taste of the Gulf in an ambiance that embodies the spirit of the WaterColor community: fun, approachable and always served with impeccable service.
Fresh seafood from the Gulf of Mexico is, undoubtedly, the crown jewel on FOOW's acclaimed menu, the development of which is led by Chef Matt Moore, WaterColor Inn's Director of Food and Beverage. Below, Chef Matt's guide to savoring the freshest that the Gulf – and FOOW – have to offer.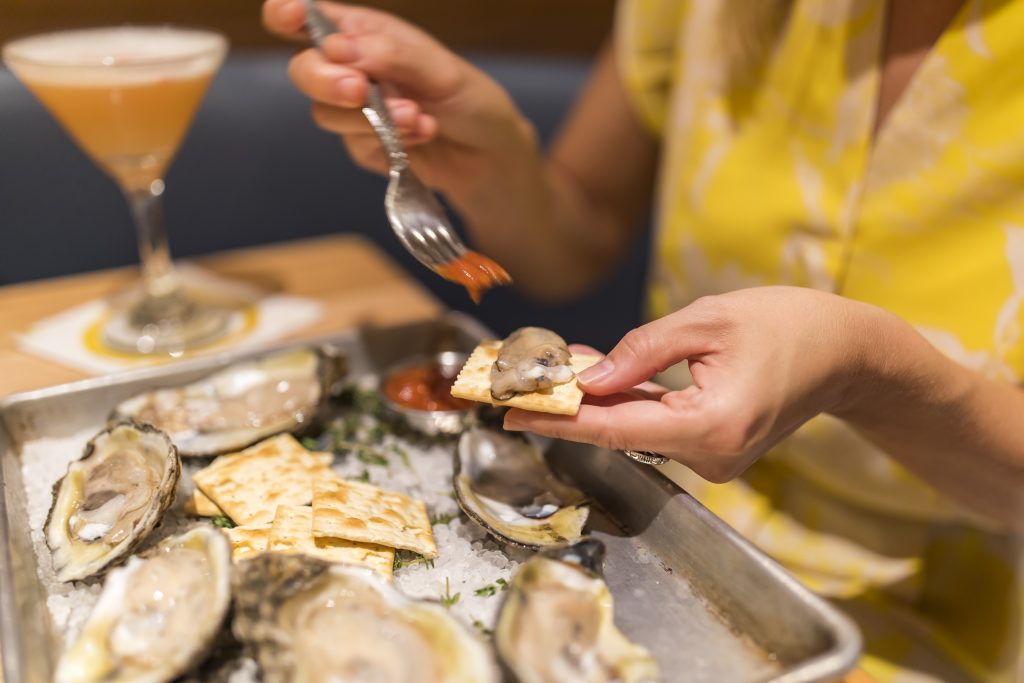 We Think Gulf Coast Seafood Is the Best Seafood (And You Will, Too). The Gulf Coast's bounty is plentiful and unlike any other in the world. While every coast distinguishes itself by a set of specific seafood items, the Gulf offers both the heavy hitters and smaller varieties chefs and anglers alike cherish – from grouper and snapper to mahi and swordfish. As the Gulf's offerings change with the seasons, so do FOOW's dishes – which rely on the very best supply from area providers. Thanks to our close-knit relationships with Gulf anglers, we have access to seasonal seafood year-round, providing guests with the opportunity to discover the delicacy of the Gulf's diverse offerings. In fact, on average, FOOW utilizes 300 lbs. of seafood per week! What does that mean for you? Incredibly fresh seafood year-round! When you order FOOW's Grouper Ceviche and Fish Dip, or whether you order your fish poached or grilled, you can count on it being in its freshest condition – having been plucked from the water no more than three days prior.
The Featured Fish of the Day Is Always a Good Idea. Just as the Gulf's offerings change with the seasons, so do FOOW's seafood features. The team gives the menu a lot of thought and consideration – with the features being influenced by what's freshest and most unique during that time. Chef Matt's tip? Always order the featured fish of the day. "When we feature a fish, we're saying, 'you should absolutely try this," Chef Matt says. "Even if you've never had it – order it! You'll be surprised to see how many of our recommendations end up becoming guests' new favorites."
Get Creative With Your Choices. While Grouper, Snapper and Swordfish are often FOOW's most requested fish dishes and are available nearly year-round, Chef Matt recommends daring to try lesser known species, such as Redfish, Wahoo, Cobia, Tripletail and Tile, when available. Grouper has become FOOW fans' clear favorite (based on orders per year), but Chef Matt encourages guests try their go-to in new ways, beyond ordering it as an entrée. "Our fish dip, ceviche, fish tacos and fried baskets are all great ways to savor the same fish prepared in different ways," he says. Additionally, FOOW offers a selection of cooking techniques, as well as several options for side items for guests to choose from. Whether they prefer grilled or fried fish, blackened or seared, our team can provide recommendations to please guests' palates just right.
When It Comes to Seafood, Chef Knows Best. If Chef Matt had to pick a favorite fish, he'd go with Wahoo (Ono), which – while native to Hawaii – can be found in the Gulf during the winter months. Known as the fastest fish in the sea, it has a meaty, steak-like texture similar to that of Cobia and Swordfish, which are also native to the area. "Wahoo has almost a marbling quality that really sets it apart. I just love it!" When it comes to FOOW dishes, however, he can't pick just one. "Our Shrimp Toast is amazing on every level – from our house-made sourdough, smashed avocado and radish to the shrimp and sesame seeds on top," exclaims Chef Matt. "And then there's our Ceviche, which is made with the trim from our swordfish, grouper and redfish and cooked only with citrus and vegetables and accompanied with freshly made potato chips. It's fresh, simple and absolutely delicious.
* * *
For more information, including hours of operation and to take a peek at the menu, visit www.foow30a.com.

Details included in this story were accurate at time of publication but are subject to change based on seasonal schedules, amenity and/or operational updates. For the most current information, please visit the respective property's website.