As 30A's go-to family vacation destination for more than 20 years, WaterColor Inn has long been beloved for its family-friendly resort amenities and unrivaled hospitality. The flagship of South Walton's WaterColor beach community, WaterColor Inn's guest experience is all about creating a cozy, comfortable, convenient and unforgettable stay for the entire family.
Of course, there are the award-winning luxury and service standards that have earned the boutique hotel a Four-Star designation from Forbes Travel Guide since 2013. And, certainly, there are the ultimate family-friendly resort amenities that include spacious Family Suites, delectable restaurants (both on-site and just footsteps away), beach club access, coastal shopping options and the most family-friendly pool access on all of 30A – with 10 pools in total!
But did you know that there's even more for your family to enjoy during a stay at WaterColor Inn? Our team has rounded up some of the very special touches you can count on during your next visit. After all, what's not to love about a little something extra?
Welcome Amenity
We're so glad you're here! All guests of WaterColor Inn receive a complimentary house-made biscotti, strawberry-orange jam and scones upon their arrival.
Treat Suites
Pack on the snacks! All WaterColor Inn guests have access to the hotel's Treat Suites, located on the 2nd, 3rd and 4th floors and accessible with a room key. Available 24/7, these "Treat Suites" are freshly stocked with a variety of amenities and snacks, including popcorn, sodas, fruit, a premium coffee and hot chocolate maker, an ice machine and a microwave for guests' use. Take as much or as little as you're craving, and be sure to come back for more!
Recreational Amenities
Bring on the adventure! WaterColor Inn guests have access to two complimentary adult bicycles, which can be checked out from the hotel's Guest Services team at any time. Additionally, enjoy one hour of complimentary kayaks at the Watercolor BoatHouse (call 850-419-6188 to book). Discounts on paddleboarding rentals, as well as fitness classes and guided ecotours are also available to guests through the Watercolor Boathouse.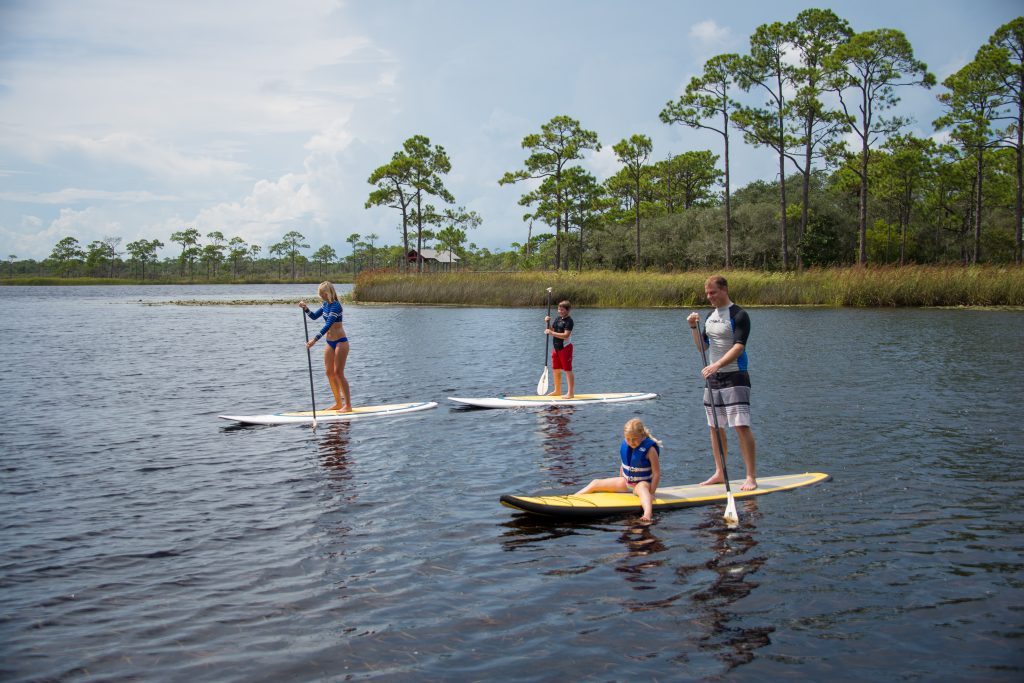 Camp WaterColor
Treat the kids to the ultimate resort experience! At Camp WaterColor, families staying at WaterColor Inn can enjoy two pools with slides, a lazy river with lifeguard on duty, a playground and a basketball court, as well as an easy-breezy family-friendly restaurant and ice-cream shop, just footsteps from the pool.
Daily Morning Coffee and Hot Tea
Seize the day with your favorite pick-me-up! From 5 a.m. until 11 a.m., guests can enjoy the hotel's complimentary fresh-brewed coffee bar at Gather Kitchen + Bar (located adjacent to the main lobby). Hot tea with fresh mint leaves and lemon is also available, as is a selection of 30A coffee table books to browse while relaxing in the lounge.
Daily Housekeeping Services
Let us handle that for you! WaterColor Inn's housekeeping services are provided daily. When the sun sets, settle in for the evening in your plush WaterColor Inn robe and slipper, provided for guests' enjoyment during their stay. Then, close out a memorable day on 30A with true Southern hospitality – the housekeeping team delivers the hotel's signature fresh-baked treat to guests' rooms each evening!
__


To learn more about WaterColor Inn's resort amenities, explore seasonal deals or book your family's next stay, visit the resort online.

Details included in this story were accurate at time of publication but are subject to change based on seasonal schedules, amenity and/or operational updates. For the most current information, please visit the respective property's website.