Timeless elegance, classically coastal charm and bespoke details… Weddings at The Pearl Hotel are filled with boundless enchantment.
From sophisticated receptions in the Pearl Ballroom and sun-kissed ceremonies on the Cabana Rooftop Deck to intimate toasts in the Hemingway Room, the award-winning boutique hotel provides endless opportunities for creating your idyllic wedding day.
And because we believe your focus should be on dreaming, our team is here to focus on the little details – none too small to ensure a memorable beginning to your happily ever after. Today, we sat down with The Pearl's Kylie Bennett, the hotel's Catering Sales + Events Manager , to help inspire your planning.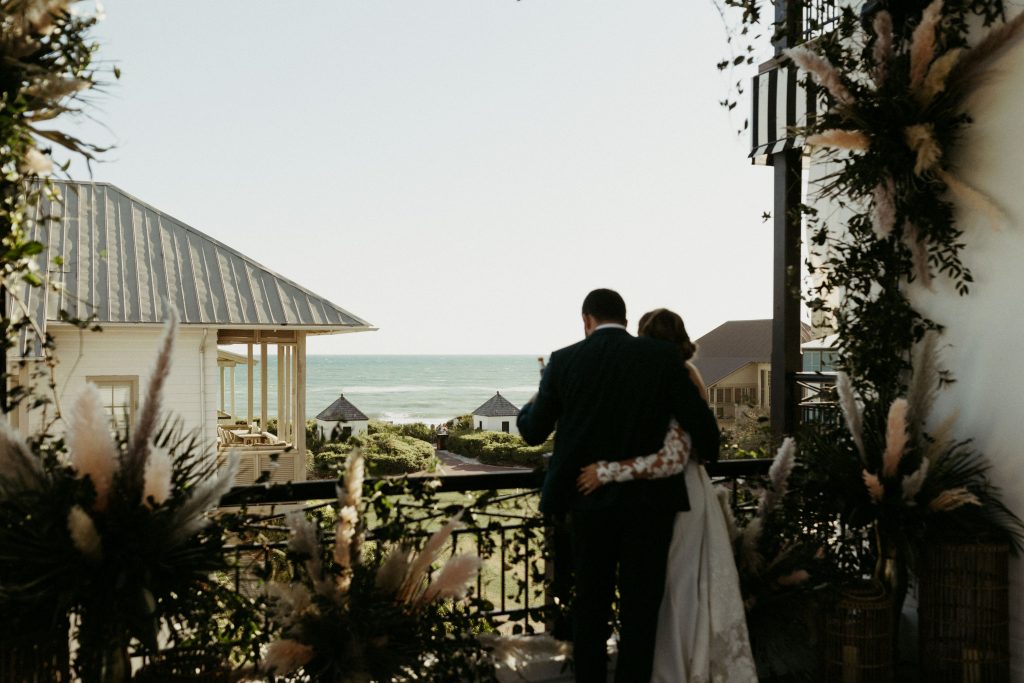 What do you think makes weddings at The Pearl so special?
With its pointed turrets, sunlit terraces and black-and-white striped awnings, The Pearl offers a stunning setting that blends European style with coastal charm, all within one of South Walton's most iconic beach communities. Additionally, couples can rest easy knowing their guests will be well taken care of and have an unforgettable experience, too. Personalization for each couple and their guests is something we pride ourselves in. From breathtaking Gulf views to our team's focus on the details, we are committed to making each wedding a dream experience.
What would surprise a couple most about what a wedding at The Pearl entails?
One of the first things we frequently hear from our brides is how thankful they are to have access to so many incredible vendors and opportunities, seamlessly and expertly bundled in one of our wedding packages! Planning a wedding can be stressful at times, but we pride ourselves on minimizing this stress by offering inclusive packages that help alleviate much of the planning. The Pearl's wedding packages include food and beverage, silverware, glassware, tables, event staff, a wedding cake and even night-of accommodations for the couple
What's the consistent thing couples say about getting married at The Pearl?
Once the wedding has come to an end, our couples immediately jump right into, "When can we come back?!" We also frequently hear from our couples that their guests praised their wedding as the best they've ever attended. Not only is this an amazing compliment but also a testament to the genuine care, thought and effort that our entire team puts into making each wedding a distinctly special one.
What's your favorite thing about weddings at The Pearl?
Getting to be such an integral part of the best day of someone's life! Wedding planning can be taxing, but seeing the joy on our couples' faces after they say "I do" in front of their loved ones is an indescribable feeling. Watching them celebrate the night away with the help of our teams really just makes us smile! We love our couples, and we love watching their dream days unfold.
__
Have other wedding-related questions? Browse our Wedding Guide or contact the team directly at weddings@thepearlrb.com. Already a Pearl bride? Congratulations! Be sure to tag us on Instagram using #thepearlrb.

Details included in this story were accurate at time of publication but are subject to change based on seasonal schedules, amenity and/or operational updates. For the most current information, please visit the respective property's website.