A stunning coastal setting, elegant touches, a variety of indoor and outdoor venues, delectable cuisine, an unforgettable backdrop… Wedding dreams really do come true at WaterColor Inn!
From lush parks and lawns within the WaterColor Community and the rustic elegance of the WaterColor BoatHouse to the whimsical setting of the WaterColor LakeHouse, weddings at WaterColor Inn cater to every imagination and possibility.
And because we believe your focus should be on dreaming, our team is here for the doing – no detail too small to ensure a beautiful beginning to your happily ever after. Today, we sat down with Cheryl Walton, WaterColor Inn's Senior Wedding Sales & Services Manager, and Sales & Event Coordinator Kelly Gray to talk all things WaterColor Weddings, just in time to inspire your planning!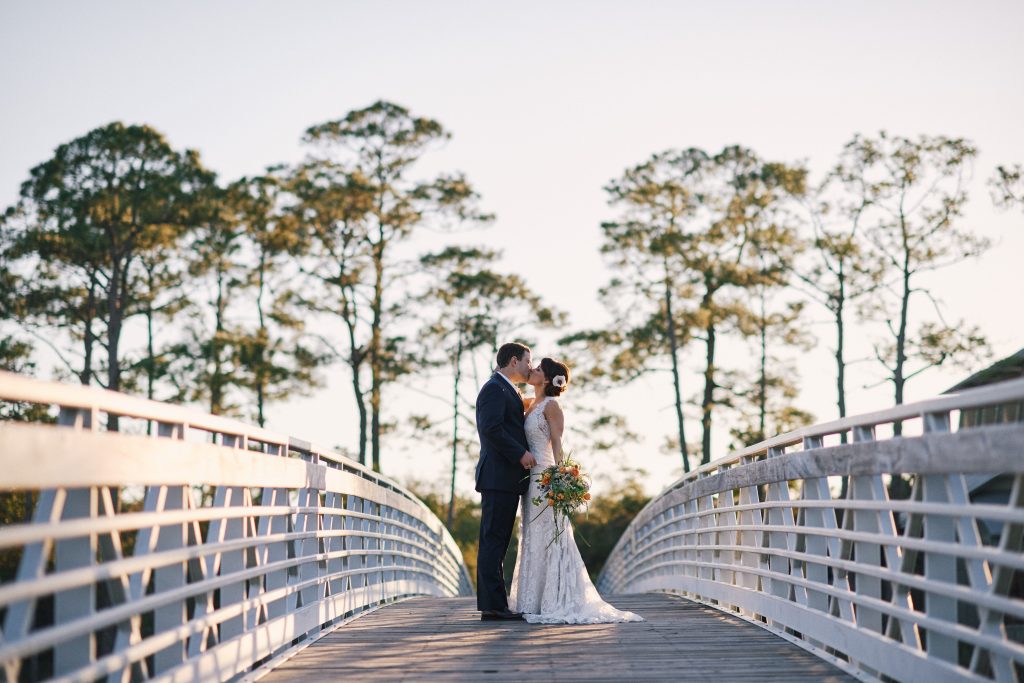 What do you think makes weddings at WaterColor Inn so special?
WaterColor Inn is perfectly located between the white sandy beaches of the Gulf of Mexico and Scenic Highway 30A, providing the opportunity to have a distinct wedding surrounded by beauty and serenity. Our experienced team is also one of the best in the business, and we're committed to making each wedding special. We have the resources to work with inspiring and talented partners to bring every vision to life.
What's the most important aspect to plan for when considering a wedding at WaterColor Inn?
With every outdoor wedding, the number one concern is always weather. Understandably, every couple wants that perfect outdoor ceremony, so having a solid Plan B is essential. At WaterColor, we literally have them covered! Any outdoor function can be moved indoors with little notice. Our team prides itself on our flexibility to take an outdoor ceremony inside without losing the essence or beauty of the ceremony. Not a lot of venues can say that.
What would surprise a couple most about what a wedding at WaterColor Inn entails? 
Planning a wedding can be stressful, so we pride ourselves in "bringing the calm." We collaborate with couples on all the details of their big day, so that we can create a fun, memorable and seamless experience for everyone. We plan so thoroughly that by the time they arrive for their wedding, they can spend their time making great memories with their guests; we've got everything else taken care of.
What's the consistent thing couples say about getting married at WaterColor Inn? 
Our couples are incredibly grateful and do not withhold their praise for us. They thank us for providing them with their perfect wedding, for taking care of every detail for them and for the delicious food. They receive a lot of compliments from their guests too and in turn share that feedback on sites like Google, Wedding Wire and The Knot – which of course we love seeing!
What's your favorite thing about a WaterColor wedding?
The creative process! No two weddings are ever the same, just as each couple is unique.  We absolutely love to infuse the couple's personality into the wedding. Our greatest reward is being able to take their vision and their story and creating a beautiful celebration of their new life together. We absolutely love what we do!
__
Have other wedding-related questions? Learn more here, or contact the team directly at watercolorweddings@stjoe.com. Already a WaterColor bride? Congratulations! Be sure to tag us on Instagram using #watercolorinn.

Details included in this story were accurate at time of publication but are subject to change based on seasonal schedules, amenity and/or operational updates. For the most current information, please visit the respective property's website.