Anyone who has visited South Walton's beach communities is familiar with the area's distinguishable fresh, sophisticated, comfortable and modern coastal lifestyle. Along 30A, sugar-white, turquoise and emerald-green pastel hues meld into a colorful palette of effortlessly casual elegance. It's this fusion of South meets Coast that has become an iconic and authentic representation of our beloved beach community.
From breezy, branded shirts to stylish totes and colorful, striped towels, our beach style is equal parts elevated and approachable. Yet, there's perhaps no more quintessential 30A accessory – for locals and visitors alike – than a piece of jewelry handcrafted by a local maker. Often characterized by natural elements, such as pearls and glass, and vibrant colors, locally made jewelry along our coast is understated and timeless enough for everyday wear but distinctly bold to elevate any occasion, long after your beach vacation is over.
The WaterColor Store is delighted to carry a well-curated selection of 30A-made jewelry and accessories, including pieces by Carrie Rhea Designs, one of our favorite local designers. Just in time for the summer season, we sat down with Carrie to learn more about what inspires her and what recommendations she has for those looking to add a new accessory to their beach haul.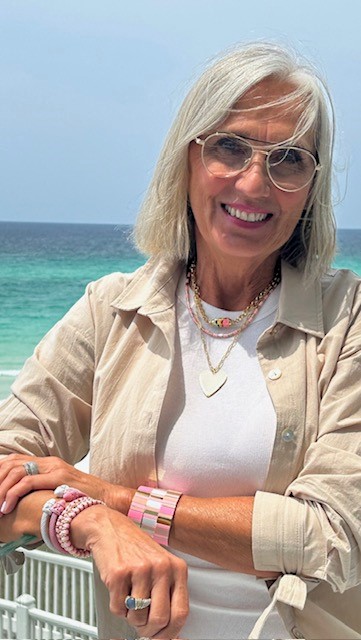 When did your interest in jewelry begin?
I've been a jewelry lover from a very early age. My mom and grandmother were very creative and stylish women, and they allowed me to admire their jewelry boxes and try pieces on. In fact, I was so inspired by their style that I incorporated "Rhea" (my mom's maiden name and my middle name) when creating my business. I've been creating ever since I can remember, even remaking pieces that I'd purchase and sharing it with others, simply out of enjoyment. After spending a decade working for an accessories company, I started setting up pop-up shops where people could purchase designs they'd seen me wearing. About six years ago, I finally made Carrie Rhea Designs my full-time profession.
What inspires your designs?
I always have women, of all ages, in mind when designing, and I consider how accessories can reflect their unique and individual tastes, personalities and styles. When it comes to designing my pieces, I am inspired by a spectrum of things: colors, fashion trends from around the world, architecture, art, nature and people. Whether it's a particular shade of blue from Santorini or the tiles and painted artwork in the churches of Rome, I incorporate a variety of inspirations into my designs. I also purchase materials from around the world, including beads, pendants and even blessed religious medals from The Vatican, and reference vintage pieces from my personal collection that further influence my creative process.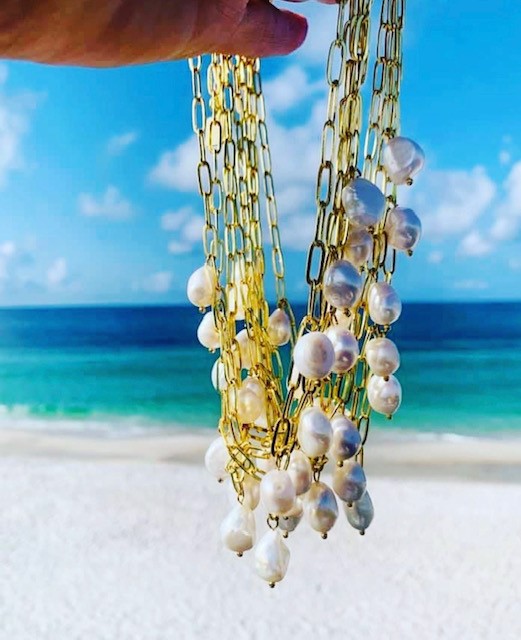 What makes your designs so quintessentially 30A?
Well, our beaches are so inspiring! The hues of color in the Gulf of Mexico, the local plants, flowers, shells… A walk on the beach at any time of day can spark inspiration. From the colors of the sunrise and the sunset to the rainbow spectrum of umbrellas set up in the sand. Living here, my creative wheels never stop turning, and I think that shows up in my work. I am proud to create jewelry that reflects this beautiful corner of the world, pieces that can be worn to the beach, then out to dinner.

What are some of the features that distinguish your designs?
You will always see pearls in my collections. They are a favorite of mine. Classic and timeless no matter the design, they also beautifully reflect South Walton. I also incorporate shells and sea glass, as well as starfish, sand dollar and shell charms that add a whimsical touch to my pieces. I have a great sense of pride in being able to represent this area through my creations. When people wear them, I hope they get a sense of the coastal lifestyle, too. I truly believe no outfit is complete without an accessory, so I design mine to be wearable with anything and every day.
How do you describe the 30A style?
The style along our beaches is always comfortable yet polished and effortlessly stylish. Breezy sundresses, linen-cotton separates, stylish coverups and even trendy athleisure are on repeat. We're also seeing a lot of color this season, as well as gold, which always looks very elegant. Along 30A, there are amazing local retailers who offer a vast selection of these styles in their shops, and I'm honored to have my jewelry available for both locals and visitors alike to create their own take on the 30A style.
What's your advice when it comes to wearing jewelry?
There are no rules! Wear a necklace on its own or layer it with some of your own personal favorites. Use statement earrings to dress up an outfit for a special occasion or jazz up a casual outfit with a stack of your favorite bracelets. Jewelry gives our wardrobe more options by allowing us to create different looks. Whatever works for you simply works!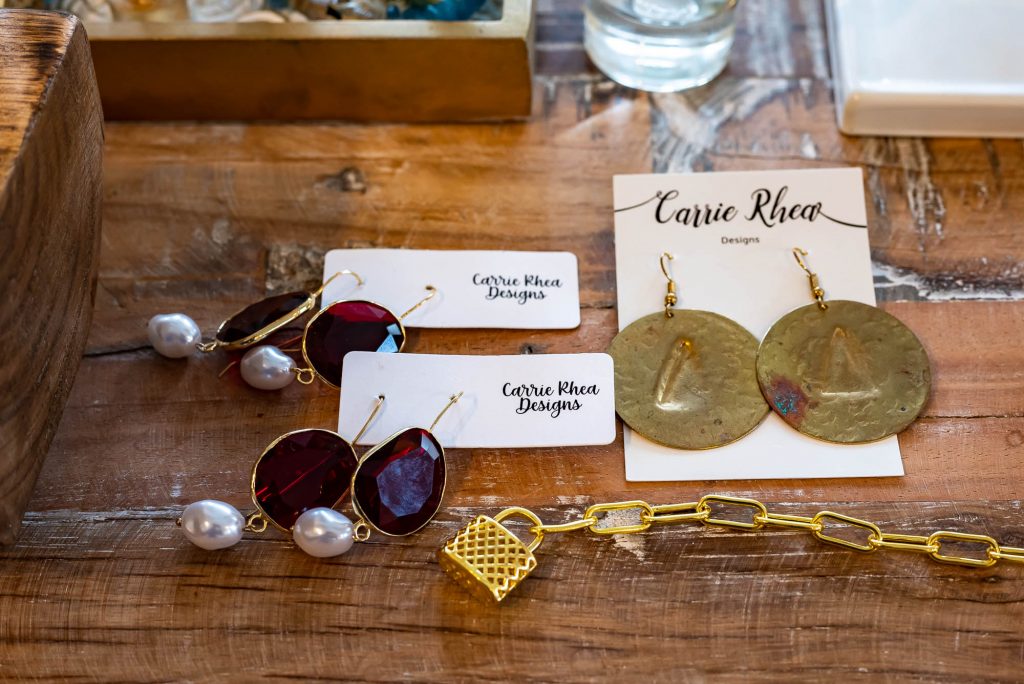 ––
Select jewelry by Carrie Rhea Designs, including WaterColor-branded woven bracelets, can be found at The WaterColor Store and at the Fish Out of Water Package Store at WaterColor Inn. Carrie Rhea Designs are also available at Watersound Club Mercantile and other select retailers along 30A.
The Watercolor® Store is located at 20 Goldenrod Cir. in the WaterColor Town Center. Just across the street at 6 WaterColor Blvd., the recently opened WaterColor Kids features baby accessories, children's clothing, children's jewelry, fashion backpacks, toys and a wide selection of kid-approved beach essentials, including WaterColor-branded items.

Details included in this story were accurate at time of publication but are subject to change based on seasonal schedules, amenity and/or operational updates. For the most current information, please visit the respective property's website.