If you know FOOW, you already know about its inspired beverage program, which boasts a variety of signature beach-inspired cocktails, an eclectic selection of craft beers and a long list of award-winning wines, stored in the restaurant's on-site cellar – but did you know you can enjoy all of this right at the FOOW bar? Prefer to enjoy an at-home bar experience? FOOW's curated selection of bar essentials, including local beers, select liquors, barware and even ice can be found at the FOOW Package Store.
Sip on Convenience, Craft Liquors and Creative Cocktails
Forgo a table and grab one of the 10 bar seats inside the FOOW dining room, or head outside to claim one of the outdoor bar seats, while still enjoying FOOW's beloved laidback ambiance and stunning views of the Gulf of Mexico. Let the bartender decide your next libation; chances are they'll concoct something creative, while sharing some stories and local recommendations! Craving something quintessentially WaterColor? You can't go wrong with a Cat on a Hot Tin Roof, Beach Hair Don't Care or Swim to the Second Sandbar (giant gummy shark included!). With a diverse beer selection and an extensive list of high-end scotches, bourbons, rums and whiskeys, the FOOW bar has something for every palate – even the exquisitely discerning ones! Bourbon lovers will delight over our Pappy lineup (until it's gone), and gin lovers will find the entire line of the deliciously fun Sipsmith® Gin brand.
With a daily happy hour (2-5 p.m.), ongoing specials and live music available seasonally, the bar truly offers the very best of FOOW – in a few glasses or less.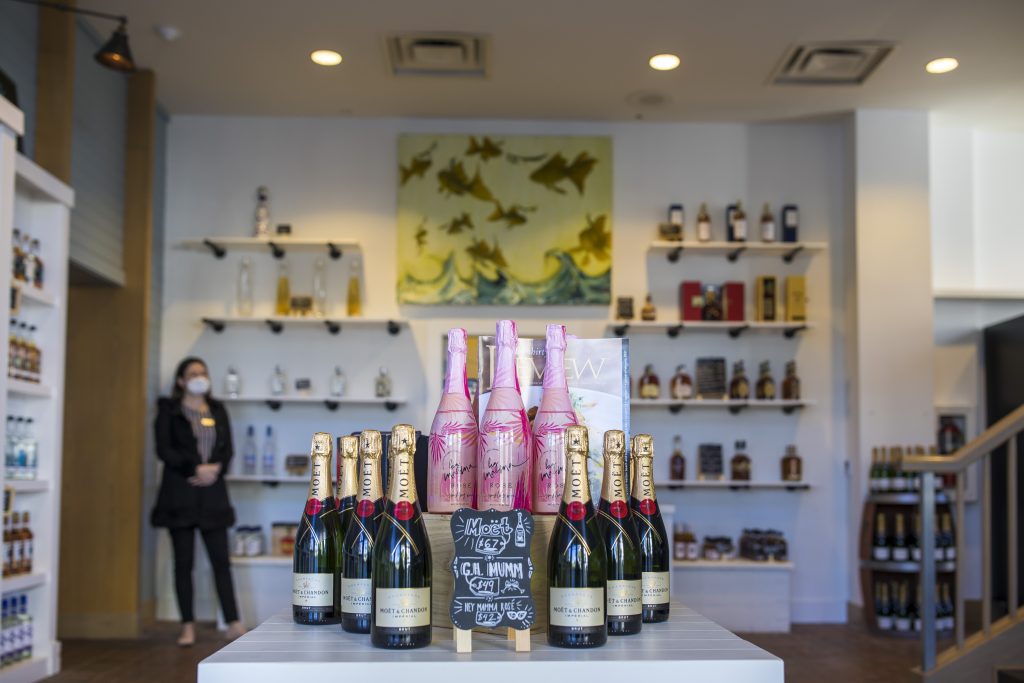 Everything You Need for a Bar-Away-from-the-Bar Experience
Conveniently located next to the WaterColor Beach access, the newly redesigned FOOW Package Store is your one-stop shop for everything you need to create a bar experience at home; enjoy some iced beverages on the beach; or take home some unique FOOW- and WaterColor-inspired barware and gifts. The store's curated collection of FOOW favorites includes Duckhorn Decoy Flavored Seltzers, Grayton Beer Company Beers, Heathen Wines, Casa Dragones Joven Tequila and even ice for your convenience! Looking to bring home something really special? The Package Store also offers more rare items like Blanton's, E.H. Taylor Rye, Eagle Rare and even Louis XIII de Remy Martin Cognac Grande Champagne. Other specialty gift items include locally beloved "Theo the Stuffed Turtle," proceeds from which go towards protect sea turtles in Northwest Florida and Carrie Rhea Jewelry, including a FOOW-inspired line of necklaces.
––
For more information about FOOW, including hours of operation and to take a peek at the menu, visit www.foow30a.com. The FOOW Package Store is open seasonally, from 7 a.m. – 10 p.m.

Details included in this story were accurate at time of publication but are subject to change based on seasonal schedules, amenity and/or operational updates. For the most current information, please visit the respective property's website.