Welcome to South Walton's newest boutique hotel experience! The Lodge 30A is inspired by the beauty of our natural coastal surroundings, providing guests with a distinct – and relaxing – sense of place. When you're here, may your heart be full, and your spirit run free…
A Nature-Inspired Escape
The Lodge 30A may be the newest boutique hotel to arrive to 30A, but its roots run as deep as those of the longleaf pines of the Point Washington State Forest, which adjoins the property and offers an immersive experience in one of the most ecologically diverse ecosystems in the world, all a short distance from one of the most beautiful beaches in the world.
The hotel thoughtfully borrows inspiration from the area's beautiful surroundings, with natural materials and colors helping to bring some of South Walton's outdoors inside. But certainly, guests of The Lodge 30A will find plentiful ways to enjoy the outdoors outside, including hiking, biking, bird-watching and so much more.
A Blend of Coastal & Contemporary Style
The Lodge 30A combines comfort and convenience with contemporary coastal style for an approachable lodging experience that feels equal parts laidback and luxurious.
The hotel's 85 guest rooms are designed to make guests' stays feel like a home-away-from-home, complete with a LED TV, high-speed WiFi, a refrigerator, microwave, dishwasher, and toaster oven – and, whether you're here to play, work or both, all rooms are equipped with working desks and ergonomic chairs. From Standard Studios to Premium Suites, you're sure to settle right in. guest rooms boast a variety of views of either Greenway Station, Point Washington State Forest of the hotel's sweeping modern pool deck.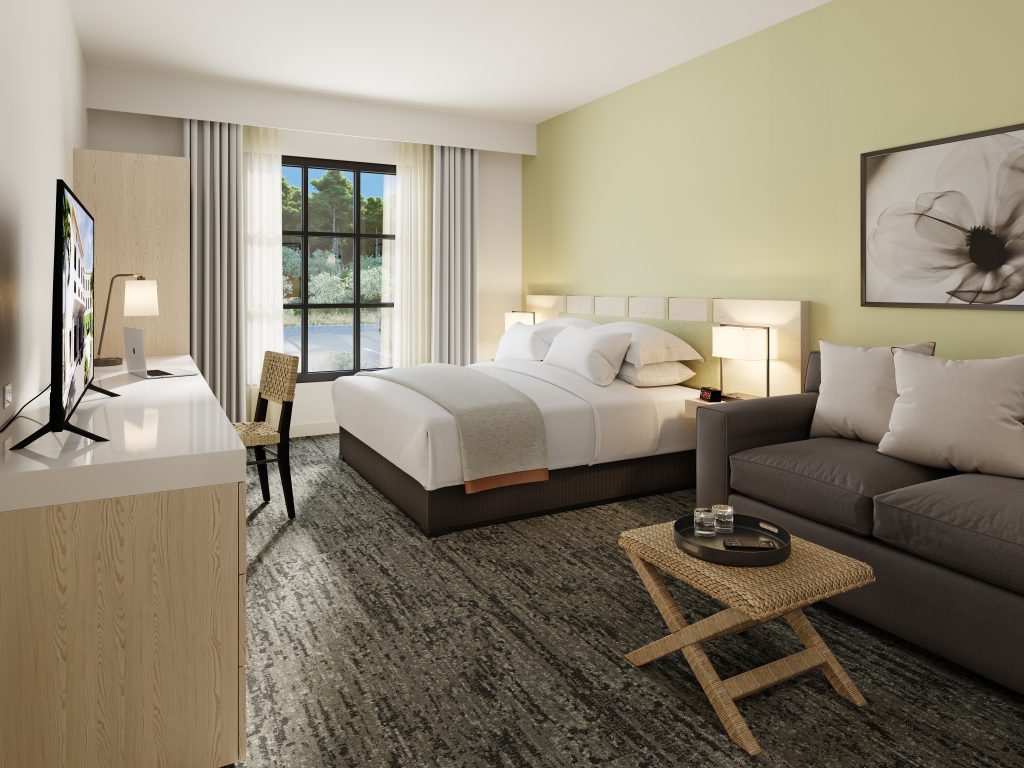 An Array of Convenient Amenities
Equipped with everything you might need and situated just steps away from dining and shopping options, as well as convenient access to the state forest's expansive network of trails, The Lodge 30A's amenities have been designed with every guest's travel needs in mind. The hotel makes it easy for guests to do as much, or as little, as they prefer – no matter what time of the year they visit.
Amenities include a private pool, 24/7 access to a fitness center, complimentary bottled water and complimentary self-parking on-site – in addition to access to some private resort perks (more on those below). Additionally, The Lodge 30A's proximity to the newly opened Greenway Station awards guests with plenty of gathering, shopping and dining options, all centrally located in Seagrove Beach and just footsteps away from the hotel.
An Anchor for 30A's Best Experiences
A stay at The Lodge30A means enjoying some of the best experiences Northwest Florida's Gulf Coast has to offer, thanks to The St. Joe Company's robust portfolio of amenities – including experiences by Watersound Club, which provide guests access to the private WaterSound Beach Club as well as two private golf courses (available as an opt-in amenity for a daily fee).
__
The Lodge 30A – already ranked among the "Top 10 Most Anticipated New Family-Friendly Hotels in 2022″ by USA Today – is now accepting reservations for bookings starting Nov. 1, 2022. Explore the hotel, amenities and current packages here.

Details included in this story were accurate at time of publication but are subject to change based on seasonal schedules, amenity and/or operational updates. For the most current information, please visit the respective property's website.